Two brother and their families make a living on 1200 dairy goats, 400 hectares and a small farm dairy. SOLID helped them improve their feeding strategy.
By Ulla Skovsbøl
Hundreds of black goats swarm around the visitors as the agricultural scientists of the SOLID project approach the Pérez Family Farm in the Andalusian countryside outside Granada on for a farm visit.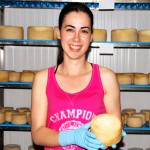 José Luis Perez Peula and his brother Antonio Perez Peula  run the farm with two milkers and a an elderly goat herd, while his daughter Belén is in charge of the farm dairy producing a delicious goat cheese using 20 percent of the milk produced on farm  by his daughter Belen Peréz Peula  – the rest is delivered to the local dairy.
Continue reading "Goats and cheese – a joint passion of the Pérez Family"