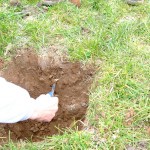 Project aims:
To review practical soil assessment methods with a focus on the impact of compaction and organic matter content on soil function and silage yield.
Establish how farmers currently assess soil health to inform their own decisions to reduce soil compaction and manage soil fertility in the most productive areas of grassland on their farms.
Background: Grazing and conserved grass remains the healthiest and most cost efficient forage for milk production in the UK. Farmers feel that they lack understanding of soil and nutrient management, particularly of the biological component of the soil and the reasons why organic farms often seemed to lose productivity after about ten years. Several farmers are reporting a drop in productivity on pastures and are attributing this to soil conditions on problem fields, but have no clear idea what exactly is the problem. Healthy soils provide grass with the medium to thrive, potentially increasing the quality and availability of forage and therefore playing a key role in the sustainability of the farm. Soil structure plays a key role in the health of soils. Recent research has highlighted soil degradation or loss of soil structure as a key contributor to declining performance of grassland. Soil structure however is often overlooked and can have a low priority on the day to day farming agenda. Understanding the key indicators of good soil structure is a crucial step towards improving soil health and husbandry on organic dairy farms.
Participating farm(s): Several organic dairy farmers (members of OMSCO) will be asked to participate by providing information on their experiences relating to their current approaches to soil assessment.  The farm selection will be based on the outcome of an online survey and discussions and interviews with advisors (IOTA and Abacus).
Methods: A literature review will establish the state-of-the-art of soil assessment and management with a focus on compaction and organic matter content. Members of a dairy co-operative (OMSCO) which is part of the SOLID Project will be asked to provide information on currently used soil assessment methods with regards to compaction and soil function through an online questionnaire. Additionally, supporting case studies will be developed to cover differences in various regions and soil types, and discuss the use of new and adapted soil assessment methods to improve soil structure and fertility, and inform farm management decisions.
Time table: Literature and case studies are scheduled for 2014, further data analysis in 2015.
Progress/outcome so far:  
Initial meetings were held. The literature review has started and is on-going, together with the design of the case studies. The questionnaire and cover letter have been finalised and launched with a planned closing date in the end of March.
Overview, participatory research
UK projects followed:
1: Monitoring performance of a system leaving calves suckling with milking cows
2: Productivity of diverse swards and mob grazing
3: Diverse swards farm comparison
4: Soil and pasture productivity
5: Discussion group to reduce antibiotic use
6: Cow nutrition and health