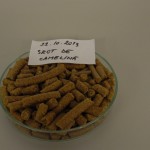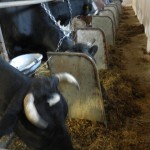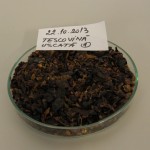 Romania: Potential of alternative feeds for ruminants in low-input systems
Summary of final report:
Two on-farm trials were organised at the Romanian SME partner, Agro Solomonescu SRL, in order to assess the effects of two novel / underutilised by-products on the dairy cows' performances. The by-products used were Camelina meal, which results from the oil extraction from the Camelina seeds, and dried grape marc, which results from winery.
The trials were conducted under commercial farm conditions: the animals were distributed in two statistically comparable groups and received two diets: a control diet, formed of feeds that are commonly used by the farmer and the experimental diet, where one or two of the classical feeds were replaced by the studied by-products, either Camelina meal or grape marc, while maintaining the nutritive supplies of the diets (protein, energy, minerals, vitamins).
Camelina meal entirely replaced sunflower meal (1:1 ratio) in a diet based on whole corn green biomass and alfalfa hay, whereas grape marc replaced one third of the cereal grains (1:3.2 ratio) in a diet based on corn silage and alfalfa hay.
At the beginning of the trials, the farm had no possibility to individually record intake and milk production. In February 2014, the farmer upgraded its milking parlour thus allowing the measurement of milk production for each cow. Therefore, individual milk production was recorded periodically for Camelina trial and daily for grape marc trial. Feed and milk samples were taken for proximal crude protein, fat, fibres etc. and, in case of milk, for fatty acids profile.
Replacement of sunflower meal with Camelina meal had no significant effect, neither on milk yield nor on milk protein or lactose. On the other hand, it decreased milk fat content about 15%, which confirm previously reported findings in the literature. The effects on milk fatty acids profile were positive, with an increase of PUFA (including the CLA).
Replacement of one third of corn grains and barley grains with dried grape marc, while maintaining the nutritive supply of the diets did not statistically influenced milk yield and milk composition (milk fat, protein and lactose content).On the other hand, it significantly increased milk PUFA, especially n-6 PUFA and, of these, the linoleic acid.
It is concluded that both Camelina meal and dried grape marc can replace, at least on short term, the more classical feedstuffs without noticeable adverse effects, except the decrease of milk fat in the case of Camelina meal. Overall, positive effects on the quality of milk fat were observed for both by-products. It is important to underline that these results were obtained within a low input production system, on cows having moderate production level. Whether these feedstuffs can be used extensively in the nutrition of the dairy cow will be determined – as expected – by their price in the market.
---