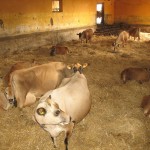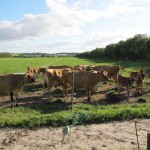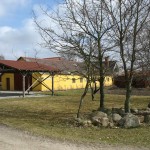 See the rapid sustainability analysis ('spiderweb') for this farm (pdf)
See  more photos
"Not bigger, but constantly better"
The farm was converted to organic agriculture in the 1970s by the parents of the current owner.  It is a family farm, where both parents are farmer educated. The farmers have a very clear goal: 'this farm should not grow bigger, but constantly better' which is a major reason for considering them pattern breakers among many Danish farmers. They have a very clear goal of minimizing medicine use through health promotion in the herd, and they want to keep the farm as uncomplicated as possible, e.g. through seasonal calving patterns. Yet, they have participated in many research projects for new innovations and developments.
Fa

rm type: Organic dairy cows, Denmark
Staff: 175 hours of casual help per year

Livestock:
Dairy cows: 48
Milk production (litres per cow per year): 4792

Land data:
Size: 63,9 ha.
Soil type: Heavy


Crops:
Oats: 7,9 ha.
Rye: 6,7 ha.

Forage:
Temporary pasture, 1st year: 12,8 ha
Temporary pasture, 2nd year: 12,8 ha
Temporary pasture, 3rd year+: 12,8 ha
…………………..Low input/rough grazing: 2,6 ha
…………………..Mooreland: 3,3 ha
…………………..Other non agricultural land: 5 ha

Feeding:
How much of the feed is roughage? 61-79 %
Feding strategy: Ad lib feed


Local engagement:
Local sales: 20 % of total sale
5 visitor events per year


Energy usage per year:
Tractor diesel: 2998 litres
Electricity (farm usage only): 22199 kW

Total NPK balance in kg:
| | | | | |
| --- | --- | --- | --- | --- |
| | IN | OUT | | Balance |
| N | 7.994 | 1.254 | | 6.741 |
| P | 309 | 219 | | 91 |
| K | 372 | 345 | | 27 |

Biodiversity and nature conservation:
Permanent pasture: 4,01 %


Please note: All data above is from 2010 and may vary from year to year.
See background info on all Danish farms examined
See details for the Danish Case farm 1