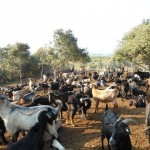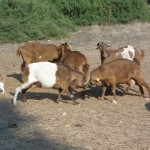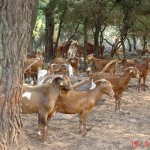 Sustainability assessment for case farm2-Greece
This is an organic farm located at the Northern part of Greece. It consists of 1200 adult dairy goats of the indigenous breed. Goats graze at scrublands throughout the year accumulating semi-mountainous less favorable areas. The farm is run by family members and one worker and produces milk for the local dairy industry under this semi-extensive management scheme. The last few years the farm is just surviving, mainly due to subsidies, as the overall milk production is reduced and the price of goat milk rather low.

Farm type: Organic dairy goats, North Greece
Staff: Four family members and one worker

Livestock: Dairy goats: 1200, Bucks: 85, Young goats: 215
Milk production: 150 (litres per goat per year)

Size: 385 ha
Soil type: Heavy
GLU (Grazing Livestock Units per ha): 0.58 GLU per ha

Wheat: 20 ha, Sunflowers: 150 ha, Lucerne: 15 ha
Temporary pasture: 200 ha

Feeding:
How much of the feed is roughage? 40-60% on a dry matter basis, excluding grazing.

Local engagement:
No visitor event
Public access

Energy usage per year:
Non tractor diesel: 8.500 litres
Tractor diesel: 25.304 litres
No electricity
| | | | |
| --- | --- | --- | --- |
| | IN | OUT | Balance |
| N | 73.710 | 7.274 | 66.436 |
| P | 1.386 | 2.156 | -770 |
| K | 2.074 | 415 | 1.659 |

Biodiversity and nature conservation:
No conservation and biodiversity action plan
Scrubland: 140 ha, woodland: 0 ha

Sustainability assessment for case farm2-Greece
 Background info on the Greek case farms
See details on Greek case farm 1