The 14 farms studied in Romania were randomly                                  Case Farm 1
selected but the selection process aimed to cover                                  Case Farm 2
various geographical areas and rearing conditions:                                Full Romanian report

± pasture, ± tethered; various breeds, etc.. No thresholds were used as selection filters, however the farms using low levels of concentrates and fertilizers were envisaged. The very small exploitations (<10 cows) were not included in the study.
Figure: Spur diagram for Romania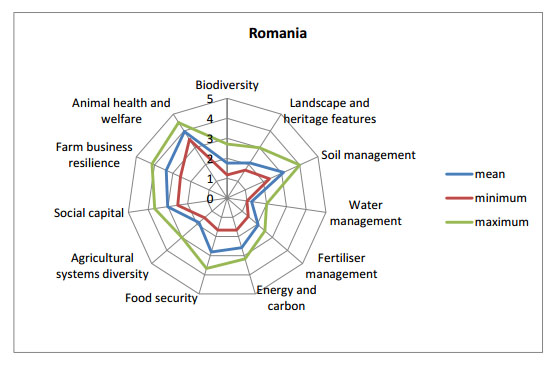 Overall findings for the studied farms

Biodiversity
The farm's average for this criterion was low, mostly because the farmers are not fully aware of the importance of biodiversity. However, the farmers instinctively care about biodiversity and try to preserve it. Also, in many cases, the way of exploiting the pastures favours biodiversity.

Landscape and heritage features
In general, there are no historic and heritage features and the farms fitted rather well into the general landscape. However, many farms need refurbishing.

Soil management
Although the assessed farms don't focus too much on soil management (e.g. only one farm performs soil analyses at farmer's initiative), they don't practice winter grazing, they harvest most crops in early autumn and much of the land is green over the winter. Also, there were no serious problems with soil erosion and the land is generally exploited in a sustainable way.

Water management
This criterion recorded the lowest average. In general, no water management plans were identified (no recycling, no use of rain water), as there are no strict rules related to water management to comply to and, in most cases, the water sources for the animal farms were abundant. However, in most cases, no functional irrigation system was available.

Fertiliser management
Most farms rely on the use of manure and make little or no use of inorganic fertilizers. On the other hand, the fertilizer management plans are basic (rare soil analysis, manure storage and valorisation needs improvement,etc.)

Energy and carbon
The farms had moderate energy consumption (fuel, electric power) and no recent changes in land destination were identified. On the other hand, there were no direct plans related to energy and carbon efficiency (e.g. production or use or renewable energy, greenhouse gases management).

Food security
Most of the farms were almost self-sustainable in terms of feed production and generated limited competition with human food. The milk production is marketed either through national-level milk collectors or by local/regional selling (e.g. milk dispenser, on-farm processed milk products) or both.

Agricultural systems diversity
This criterion registered one of the lowest averages. The farms were quite specialized (1-2 animal species, 3-4 crops) and, in general have limited options to market their products (lack of investments, dependence on milk collectors, etc.).

Social capital
In most farms the labour is provided by the family members and some additional workers. In general, public access is not encouraged, but the farmers are rather open to appointed visits.

Farm business resilience
Although most farmers are concerned by the future of their business, the average for this criterion was rather moderate. The explanation consists in the small & medium size of the herds, cheap labour price (the family of the owner often contributes), low costs for farm maintenance, low pressure on cash flow (e.g. purchase of feeds is limited, no investments therefore no bank loans to return). The range of scores is moderate, as the business resilience also depends on factors such as proximity to large cities, access to pasture, etc.

Animal health and welfare
This criterion had not only the highest average score, but also a low variability of the individual scores – this could be explained by the fact that animal load / worker is rather low, therefore the animals receive more care. Also, the animals are exploited in a rather sustainable way.