Ten Danish farms participated in the rapid                                          Case Farm 1
sustainability assessment. They were selected                                    Case Farm 2
by the project manager from Thise Dairy                                             Full Danish report
(Thise Dairy is the largest dairy in Denmark
producing only organic dairy products. It has 87 suppliers in total.) together with the research partner.  Two (soon four) of these farms are presented on this webpage (see links above)
The ten farms are selected so that they represent a wide variety of farms within the company.  They had been organic for between 12 and 28 years (mean 16). The data from the Danish farms are from 2010, collected in 2011-2012.
Figure: Spur diagram for Denmark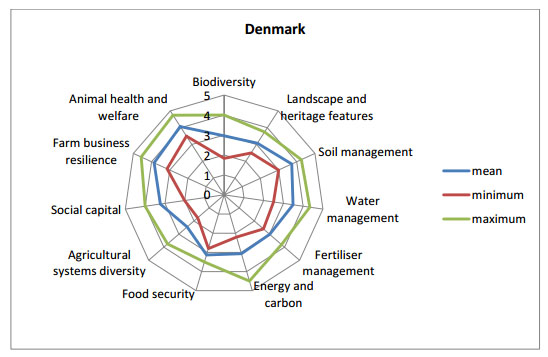 Overall findings for the studied farms

Biodiversity
Denmark is the country in EU with the largest part of cultivated land, and that is reflected also in organic dairy farming. There were generally not many habitats for wildlife. Some farmers had made a nature conservation plan. Furthermore, there is not much focus among many farmers on rare species of flowers and animals.

Landscape and heritage features
Generally, not much weight is put on heritage in Danish farms. There are plenty of graves from the stone and iron age, and most of the participating farms had one or more of these. The farmers were asked whether their buildings were in accordance with the surrounding area and landscape, and whether it was tidy – these questions were very difficult for individual farmers to answer, and many Danish landscapes are quite bare and flat.

Soil Management
Soil samples analyses and involving advisors added to a good score, and many Danish farmers make the required (by law) tests and manure plans etc., but not regular in-depth soil samples.  Denmark is a very flat country, so there are no erosion problems, although wind in some areas create risks.

Water Management
If a Danish farmer irrigates the land, the irrigation equipment is normally very much under control. On the other hand, there is very little recirculation of water, and there is much caution about not using rainwater for a number of things because of safety issues (e.g. danger of bacterial infection or pollution).

Fertiliser Management
Since all the participating Danish farmers were organic, many of the questions were irrelevant. The storage and use of slurry is quite strictly regulated in Denmark, but there was some variation beyond the regulations. Farm waste like plastic, metals and timber is always managed by central recycling stations in Denmark, and medicines are only to a very limited extent allowed on-farm (only for post treatments of calves for a limited number of days) and is immediately delivered back to the veterinarian or pharmacy.

Energy and Carbon
All Thise farms have engaged in a project making climate mitigation and adaptation plans. The only difference at the time of the rapid sustainability assessment was whether it was already done or not, and whether action had been taken based on eventual results. So far, very few of the farms produced their own energy.

 Food Security
Denmark generally scored quite low here: not much food for human consumption is produced on the farms, and almost no farms produced food for local sale. Since all farmers were owners of the Dairy Company (all dairy companies in Denmark are based on shared ownership by the producers), they had all received endorsements.

Agricultural System Diversity
All participating farms were specialized milk producers. Few had other species of animals, in most cases only for consumption in the family (e.g. egg layers and sheep). Most farmers grew very few crops, mostly for feed, and one farmer had a large carrot production besides milk production. One farmer produced ice cream on the farm. All milk – apart from that – went to the Thise dairy company, which was owned by the farmers themselves, and because it was only one outlet, this counted down.

Social Capital
All were members of an ethical trade scheme through their dairy company. Very few farmers gave public access to their farms in terms of walking paths, lunch places etc. In Denmark there is very little tradition for posting information in nearby villages, farmer markets etc. and only one farm had a farm shop with ice cream where many people came during summer. Few had received an award. Some farms had open days, and many participated in activities where colleagues were invited into the farm. All took care of good health, education and security for staff members.

Farm business resilience
This spur was highly influenced by the fact that the farmers gave their own feeling and perception of flexibility and decision power. Generally, these farmers felt quite in control over their farm or business and their situation. This is not typical for many Danish farmers. They expected to stay in business for the next year, and many also next decade. Even though their farms were specialized milk farmers, they felt that they were flexible in their choices.

Animal Health and Welfare
All farmers were part of some health promotion scheme, as part of the Danish legislation. A number of the participating farm had deep litter areas and not cubicles, which explains part of the good results (cubicle housing can per definition not give free movement or natural lying down and rising behavior). Most Thise farmers had participated in a project about health promotion as a way to minimizing disease treatments, and therefore had high focus on this as well as disease prevention, and a very low usage of veterinary treatments and medicine. In Denmark, animals can only receive medical treatments from a authorized veterinarian.
Read the full report: Rapid sustainability assessment of organic and low-input farming across Europe and identification of research needs