The farms assessed in Finland were all members                                        Case Farm 1
of the SME Juvan Luomu Ltd, which is a small                                            Case Farm 2
organic dairy company in eastern Finland.                                                   Case Farm 3
Seven out of nine partners of the company were                                         Full Finnish report
interviewed and they all produce organic milk.
The partner farms of Juvan Luomu Ltd have been organic for 10 – 22 years (mean 17). The farm characteristics are very close to the national organic average although the farm size is considerably larger (140 hectares) than the average (70 hectares).  Stocking rate of the farms is 0.51 animal units per hectare and yearly milk yield is 7 800 litres. The study farms mostly have only Ayrshire cattle. Two farms also have Holsteins and one farm has some Finn cattle.
The highest mean scores for Finland were achieved in the spurs "Farm Business Resilience", "Animal Health and Welfare" and "Nutrient Management". "Soil Management" also scored quite highly. The lowest scores were recorded in the spurs "Energy and Carbon", "Water Management" and "Biodiversity".
Figure: Spur diagram for Finland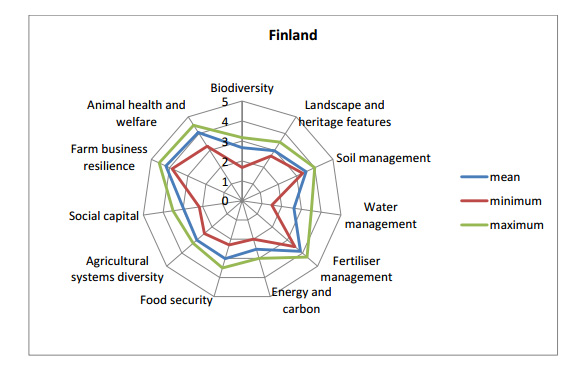 Overall findings for the studied farms:

Biodiversity
Farms use several management options for higher biodiversity, but do not have plans or areas for biodiversity conservation. Permanents pastures and woodlands are very rare.
Landscape and heritage features
In general, there are no historic and heritage features and the farms fitted rather well into the general landscape.

Soil management
The good scores in "Soil Management" were recorded mainly because of low risk of erosion and increasing organic matter of the soil.

Water management
Water is not a limiting factor in Finland and therefore little or no attention is paid to saving water and water management. On the other hand, much attention is paid to prevention of water pollution and, in particular, nutrient leaching.

Fertiliser management
Soils and manures are analyzed on all farms and computer based programs are widely used for nutrient management planning and are completed with the help of an advisor. N-balance seemed to be quite high on farms, but there is a degree of uncertainty in these figures, because it is quite difficult to estimate the correct amount in clover-based short-term grasslands, which cover the majority of the farmland. The mean of estimates of N fixation based on the area of legumes, and the farmer's description of the clover content of swards was 100 kg/ha (range 78 – 121). A major weakness on the farms is that the slurry tanks for storage are not covered.

Energy and carbon
Energy use per head in Finland seems to be very high. The reason for this is possibly the long distances between the main farm and the fields which are quite far away, because of big farms, combined with large areas of forests and lakes. It is also notable that there is no attention paid to greenhouse gas emissions in Finland. Renewable energy use is on quite a high level in Finland because wood is used for energy production and much of the energy is produced with 'green tariff' (water) power.

Food security
Most of the farms were almost self-sustainable in terms of feed production and generated limited competition with human food. The milk production is marketed either through national-level milk collectors or by local/regional selling (e.g. milk dispenser, on-farm processed milk products) or both.

Agricultural systems diversity
The genetic heritage is quite narrow in Finnish dairy production but on the other hand, good care is taken of the landscape. The diversity of plant species is high, but the diversity of animal breeds is low. The farms, in general, have limited options to market their products.

Social capital
In most farms the labour is provided by the family members and some additional workers. In general, public access is not encouraged, but the farmers are rather open to appointed visits.

Farm business resilience
Farmers considered their farm profitability to be quite good and expected it to be the same or better in the future. In Finland farmers take in a lot of information from advisors, farmer magazines, seminars, the Internet and even from abroad. They make many economic and other plans for their farms and have good forward vision.

Animal health and welfare
All the farms had health care plans which were formulated together with the vet and updated regularly. Costs of medicines and treatment are quite high, but they also include preventive actions which result in good animal health. The average number of lactations was below 3 on all farms, which all farmers considered to be too low. All farms except one have loose housing and even when not on pasture, the cattle have access to the outdoors. The grazing period in eastern Finland is normally 5 months.