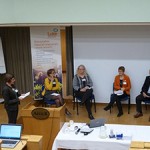 The SOLID Workshop "Organic and low-input dairying" – an option to Northern European Dairy Sector?" was held in Helsinki, Finland on 27-28 October 2015.
The majority of participants epresented various Finnish stakeholder groups with delegates from other Nordic countries and the Baltic countries as well.
The presentations covered findings from all work packages of the project. Additional presentations were also given, where the role of organic dairy production in the Northern Europe was evaluated. We also received an update of another EU FP7 project "Ruminomics".
Continue reading "Conference on sustainable dairy farming in Northern Europe"