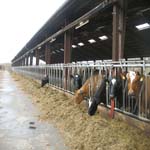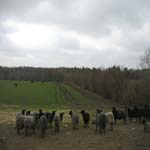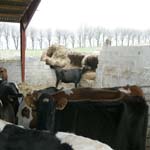 See the rapid sustainability analysis ('spiderweb') for this farm (pdf)
Simple to overview – smooth to organize
In 2010, this farm had held an organic certification status for 19 years, was at 379 ha and had 180 cows per year, and had about 50 sheep and a big carrot production. The farm is run by a family, and the herd is primarily managed by a herd manager, who has been at the farm for almost 4 years (in 2010). They have seasonal calvings, and calves in big groups with outdoor access, and a low-cost housing system with no walls and deep litter bedding area. The principles of the farm are to make things quite simple and easy to overview and hand over between people, and smooth to organize. The herd has been managed based on a phasing-out-of-antibiotic strategy through improved health care.

Farm type: Organic dairy cows and sheep, Denmark
Staff:Seasonal workers for the carrot production


Livestock:
Dairy cows: 180
Lambs: 50
Sheep: 50
…………………..Milk production:(litres per cow per year) 6944

Land data:
Size: 379 ha.
Soil type: Medium


Crops:
Oats: 50 ha.
Peas – dry: 30 ha.
Leeks: 15 ha.
…………………..Carrots: 45 ha.

Forage and land use:
Forage maize: 40 ha
Temporary pasture, 1st year: 40 ha
Temporary pasture, 2nd year: 40 ha
…………………..Temporary pasture, 3rd year+: 40 ha
…………………..Permanent pasture, medium clover content: 10 ha
…………………..Low input/rough grazing: 40 ha
…………………..Mixed woodland: 25 ha
………………….

Feeding:
Feeding strategy: Ad lib. Feed (feed available when the animals want it)
How much of the feed is roughage? 61-79 %


Local engagement:
Public access
1 visitor event per year


Energy usage per year:
Tractor diesel: 45.000 litres
Electricity (farm usage only): 158.000 kWh


Total NPK balance in kg:
| | | | | |
| --- | --- | --- | --- | --- |
| | IN | OUT | | Balance |
| N | 44.065 | 48.498 | | -4.433 |
| P | 3.190 | 9.602 | | -6.412 |
| K | 10.944 | 37.379 | | -26.435 |

Biodiversity and nature conservation:
Conservation plan developed
Permanent pasture: 13,19 %

Rapid sustainability analysis:

Please note: All data above is from 2010 and may vary from year to year.
See background info on all Danish farms examined
See details for the Danish case farm 2