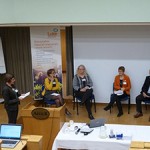 The SOLID Workshop "Organic and low-input dairying" – an option to Northern European Dairy Sector?" was held in Helsinki, Finland on 27-28 October 2015.
The majority of participants epresented various Finnish stakeholder groups with delegates from other Nordic countries and the Baltic countries as well.
The presentations covered findings from all work packages of the project. Additional presentations were also given, where the role of organic dairy production in the Northern Europe was evaluated. We also received an update of another EU FP7 project "Ruminomics".
In the end of the workshop, a panel discussion took place where the key questions of what are the major opportunities and challenges of organic and low-input dairying were addressed. The implementation of the research results was also discussed throughout the workshop. The e-learning courses produced as important outputs of the project were seen as one means to improve the impact of the project.
---
Presentations given at the workshop are available from the links below:
Day 1:
Sustainable Organic and Low Input Dairying (SOLID) – an introduction
Organic food production & consumption in the Nordic countries: possibilities and challenges, Pirjo Siiskonen, FORI Director, professor
Carbon footprint of organic dairying in six European countries, Sanna Hietala
Decision support tools for environmental improvements in dairy farms, Sampsa Nisonen
INCLUDING OF BIODIVERSITY AND SOIL CARBON CHANGES IN LIFE CYCLE ASSESSMENTS OF MILK PRODUCTION, Marie Trydeman Knudsen & John E. Hermansen
Participatory on-farm trials were successfully used in SOLID-project, Päivi Kurki
From conventional intensive farming to performance economy? Sirpa Kurppa
Economic perspectives in promoting lowinput dairying in Finland, Heikki Lehtonen and Olli Niskanen
From current challenges to future innovations, Dr. Terhi Latvala
Day 2:
Novel feeds may provide multiple benefits, Prof. Marketta Rinne
Effects of feeding intensity on milk production and animal health in different breed types
"Organic and low-input dairying – an option to Northern European Dairy Sector?", Auvo Sairanen, Marketta Rinne, Werner Zollitsch, Conrad Ferris, Mogens Verstergaard and Torben Larsen
Feed efficiency and Genetics, Martin Lidauer
RuminOmics Connecting the animal genome, the intestinal microbiome and nutrition to enhance the efficiency of ruminant digestion and to mitigate the environmental impacts of
ruminant livestock production, John Wallace
TRAINING COURSES ELEARNING, CLEDWYN THOMAS AND JULIAN COOK
---
See programme from the SOLID regional Meeting in Helsinki, 2015