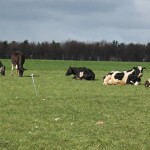 Future sustainability of organic and low-input and milk production: Challenges and solutions
The Organic Research Centre (ORC) together with OMSCO, Aberystwyth University and AHDB Dairy are organizing a West European Regional Workshop under the SOLID project. The workshop will be held on the 26-27 of January 2016 in Bristol, UK.
The overall aim of the workshop is to present and debate the outcomes of the SOLID project and to discuss the relevance of the results to Dairy Farming in in the UK and Western Europe with farmers, advisors, stakeholders and scientists. The conference is aimed at farmers, consultants, scientists, dairy processors, feed producers and others with an interest in low-input and organic milk production. A particular focus will be given to strategies that can help to implement the findings of the project by farmers and how to better utilize current technological developments in view of the experience gained from the SOLID project. Invited speakers from Aberystwyth University, the Organic Milk Suppliers Co-operative, Aarhus University and the Agricultural University in Vienna the will introduce the project and the challenges of low-input and organic milk production as well as reporting on project results in relation to breeding objectives and breed choice and forage utilization and animal health. The programme also includes several speaker representing recent research and experiences on related studies and farmers who were actively involved in the project will present experiences and knowledge and support for innovation gained through their engagement in on-farm studies.
The conference will be held adjacent to the 10th Annual Organic Producers' Conference of ORC allowing delegates to attend both events in tandem. The first day of the conference will involve an opening plenary session, followed by two blocks of parallel sessions covering question of breeding and breed choice, nutrition and forage utilization, novel practices in improving cow health and other aspects. The first day concludes with an open plenary that will allow a broaden discussions and stimulate questions regarding the future steps and challenges for organic and low-input milk production. The second day will focus on practical challenges of organic dairy farming with an interactive workshop on dairy cow nutrition under low-input/organic conditions. Delegates also have the opportunity to register for the 10th Organic Producer Conference which will include further interesting workshops, including forage production and the role of minerals and many other topics.
Details about the place of the event, registration, directions and other relevant information will be available on the website of Organic Research Centre by the end of September. See Sustainability of organic/low-input dairy.
On behalf of the organizing committee,
Dr. Konstantinos Zaralis